U.S. Dairy Products
Butter & Milkfat
Butter's simple goodness has passed the test of time and emerged as a favorite for those with a love for flavor and functionality. Butter was once made by hand in small churns, but today U.S. creameries are highly controlled and sophisticated operations emphasizing quality and consistency.
With a steady milk supply 365 days a year, the United States is well-positioned to meet ever-increasing global demand for dairy fats. U.S. manufacturers provide a variety of different butter and milkfat products processed under strict guidelines to meet stringent demand of global customers. U.S. manufacturers, from East Coast to West Coast, are focused on customer needs and are ready and eager to partner with customers around the world.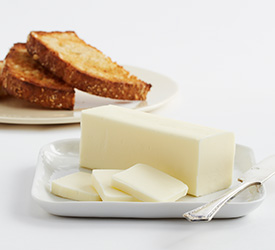 The irresistibly sweet taste and creamy texture of "Made in USA" butter provides global customers with a quality-driven product that enhances flavor in a multitude of applications. Continue on to discover why international customers are excited about the positive qualities of U.S. butter.
Formulas & Recipes
Whether you are a food and beverage manufacturer or a foodservice operator, U.S. butter and milkfat can add the difference to your formulas or recipes. Hundreds of innovative ideas are at your fingertips.
A tangy and refreshing cake that will transport you to the tropics. Juicy dragon fruit and silky cream cheese sit atop a golden-brown pecan nut base.
Combining the creamy and nutritious blend of taro and caramel, enjoy this high protein dessert that also serves as a meal replacement.
Perfect for busy kitchens that take pride in serving delicious pizza on a flavorful crust. Ready to sauce and top with your preferred toppings for a hearty pizza treat.