Search By Company
Agri-Dairy Products, Inc.
(Processor)
Agri-Dairy has been servicing the Food and Feed industry with quality dairy ingredients since 1985. As a trusted supplier we have developed a reputation of providing the service and quality products required by the most discerning clients. Our success stems from the success of our partner clients and we look forward to partnering with you. > Agri-Dairy distributes all kinds of dairy products in the Domestic market in the USA and also exports to several countries in Latin America and Asia as Mexico, Chile, Brazil, Peru, Colombia, Dominican Republic, Costa Rica, Guatemala, St Lucia, Japan, China, Taiwan, India, Korea.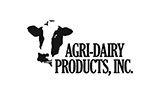 3020 Westchester Ave.
Purchase, NY 10577
Phone:
(914) 697-9580
Fax:
(914) 697-9586
www.agridairy.com
Butter & Milkfat
Butter 80%
Blends, Bulk, Cups/Tubs, Halal, Kosher, Salted, Unsalted, Whipped
Butter 82%
Blends, Bulk, Cups/Tubs, Salted, Unsalted, Whipped
Butter Powders
Blends, Bulk, Halal, Kosher
Butteroil/AMF
Blends, Bulk, Cups/Tubs, Halal, Kosher
Fat Blends
Blends, Bulk, Cups/Tubs, Halal, Kosher
Ghee
Blends, Bulk, Cups/Tubs, Halal, Kosher
Cheese
Cheddar-White
Daisy, Industrial
Colby Jack
Block - 40 lb / 18 kg, Crumbled, Industrial
Cream Cheese
Block - 40 lb / 18 kg, Retail
Curd
Barrels, Block - 40 lb / 18 kg, Industrial
Feta
Block - 40 lb / 18 kg, Industrial
Gouda
Block - 40 lb / 18 kg, Industrial
Mascarpone
Block - 40 lb / 18 kg, Industrial
Monterey Jack
Block - 40 lb / 18 kg, Industrial
Mozzarella - Fresh
Block - 40 lb / 18 kg, Industrial
Mozzarella - Part Skim
Block - 40 lb / 18 kg, Industrial
Mozzarella - Part Skim, Low Moisture
Block - 40 lb / 18 kg, Industrial
Mozzarella - Whole Milk
Block - 40 lb / 18 kg, Industrial
Mozzarella - Whole Milk, Low Moisture
Block - 40 lb / 18 kg, Industrial
Mozzarella IQF
Block - 40 lb / 18 kg, Industrial
Neufchatel
Block - 40 lb / 18 kg, Industrial
Processed Cheese
Block - 40 lb / 18 kg, Industrial
Processed Cheese Food
Block - 40 lb / 18 kg, Industrial
Processed Cheese Product
Block - 40 lb / 18 kg, Industrial
Processed Cheese Spread
Block - 40 lb / 18 kg, Industrial
Provolone
Block - 40 lb / 18 kg, Industrial
Queso Blanco
Block - 40 lb / 18 kg, Industrial
Swiss
Block - 40 lb / 18 kg, Industrial
Dairy Desserts
Gelato
Dry Mix, Fat Free, Kosher
Ice Cream
Bulk, Dry Mix, Kosher, Wet Mix
Lactose
Lactose
Feed Grade, Food Grade, Halal, Kosher, Non-Hygroscopic
Milk & Cream
Cream
ESL (Extended Shelf Life), Foodservice, Fresh (short shelf life, requires refrigeration), Frozen, Industrial, Kosher, Pasteurized, US Units (gallons, oz., etc)
Evaporated Milk
ESL (Extended Shelf Life), Foodservice, Industrial, Kosher, Pasteurized, US Units (gallons, oz., etc)
Heavy / Whipping Cream
ESL (Extended Shelf Life), Foodservice, Fresh (short shelf life, requires refrigeration), Frozen, Industrial, Kosher, Pasteurized, Retail, US Units (gallons, oz., etc)
Milk Powders
Buttermilk Powder
Kosher, Sweet Cream
Nonfat Dry Milk
High-Heat, Kosher, Low-Heat, Medium-Heat
Skimmed Milk Powder
High-Heat, Kosher, Low-Heat, Medium-Heat
Whole Milk Powder
Kosher, Low-Heat
Other Dairy Products
Milk products for animal feed
Permeate
Milk Permeate
Feed Grade, Food Grade, Halal, Kosher, Non-Hygroscopic
Whey Permeate
Feed Grade, Food Grade, Halal, Kosher, Non-Hygroscopic
Whey Proteins & Ingredients
Acid Whey Powder
Feed Grade, Food Grade, Kosher, Non-Hygroscopic
Fat-Filled Whey
Feed Grade, Food Grade, Kosher, Non-Hygroscopic
Sweet Whey Powder
Feed Grade, Food Grade, Kosher, Non-Hygroscopic
Whey Cream
Feed Grade, Food Grade
WPC 34
Feed Grade, Food Grade, Kosher, Non-Hygroscopic
WPC 80
Feed Grade, Food Grade, Kosher, Non-Hygroscopic
Yogurt & Fermented Products
Greek Yogurt
Full Fat, Kosher, Liquid/Drinkable, Low Fat, NonFat, Plain, Powder
Kefir
Full Fat, Kosher, Liquid/Drinkable, Low Fat, NonFat, Plain, Powder
Yogurt
Full Fat, Kosher, Liquid/Drinkable, Low Fat, NonFat, Plain, Powder